Why You Should Be Adding Exosomes to Your Next Skin Treatment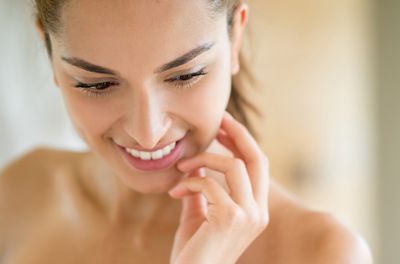 Exo-XOM technology is a post-treatment topical serum designed to enhance recovery, strengthen the skin barrier, and provide overall skin revitalization.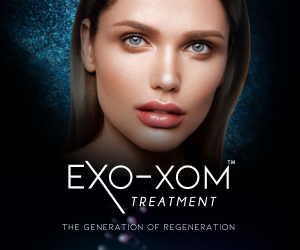 What is an Exosome |
Exosomes are a type of nanoparticle (aka vesicle) that's naturally secreted by stem cells, to communicate with neighboring cells. These tiny messenger cells contain potent growth factors, amino acids, peptides, RNA, and anti-inflammatories.
Benev exosomes differ from other formulas in that they are lyophilized exosomes, meaning they are freeze-dried and kept stable in the refrigerator. They're also dual-filtered via a patented purification process.
Why You Should Be Adding Benev Exosomes to Your Next Skin Treatment |
Benev exosome facials feature the brand's patented Exosome Regenerative Complex. Applied topically, this formula concentrates the power of these vesicles' regenerative properties to promote elastin and collagen production, boost hydration, and improve the appearance of age spots, fine lines and wrinkles, and skin texture.
In combination with our advanced aesthetic treatments, such as Virtue RF Microneedling, Exo-Xom can significantly reduce downtime, relieve skin irritation, and improve results.
The Exo-Xom facial is the combination of a unique blend of exosomes with hyaluronic acid, minerals, coenzymes, and even more growth factors and peptides delivered into the skin via specific protocols—microneedling, radiofrequency microneedling, laser skin rejuvenation, HydraFacial or chemical peels. Each treatment would be customized to your skin concern and results can be seen within just a few days of your treatment!
Though exosomes and PRP (platelet-rich plasma) treatments sound similar, exosomes are far more effective because the nanoparticles feature more growth factors, amino acids, proteins, and other beneficial skin factors. Unlike PRP, this treatment option doesn't involve a blood draw!
Who Makes a Good Candidate |
Everyone! We can tailor each treatment to your specific skin conditions and concerns, from fine lines and age spots to acne and more.
What Should You During an Exosome Treatment |
Our estheticians will first treat the skin with a laser, chemical peel, RF microneedling, or Hydrafacial to make it easier for the Exosome Regenerative Complex to penetrate.  Then the exosome serum will be applied. The serum will likely feel cool and soothing on the skin. Because the exosomes offer regenerative properties, you should experience minimal to no downtime, depending on the depth of your prior treatment.
Your esthetician will provide you with post care instructions, such as avoiding washing your skin and using additional products for at least 24 hours after treatment.
A single treatment will boost your skin quality and turn back the clock, but a series of treatments may be recommended if you have more advanced concerns.
Depending on the delivery method, you may wake up a little dry, but should notice a glow to the skin after a few days, smoothing and tightening over the next few weeks to months.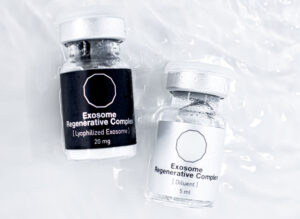 Schedule an Exosome Treatment Today!